Meet the children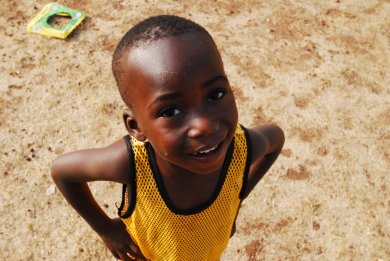 Poso is 5 years old and has lived at the orphanage for almost one year. Poso came to the orphanage when I was a volunteer there; he was so shy and didn't talk to anyone. Today he is such a loving, alert and social little boy, who has the magic affect to put a smile on everyone's lips.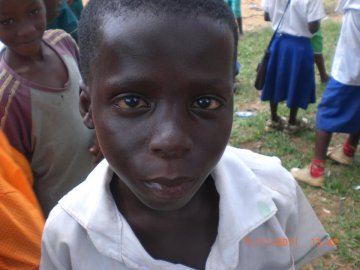 Kofi Annor is 9 years old and he is the big brother of Yaw Sem who is 7 years old (see picture bellow), the brothers have lived at the orphanage for 4 years. Before they came to the orphanage they lived under very hard conditions out in the jungle, this is probably one of the reasons that they both are in need of extra help. Kofi Annor has for example severe learning difficulties and struggles a lot in school.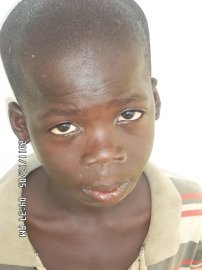 This is Yaw Sem who is the little brother of Kofi Annor. Yaw Sem has, like Kofi Annor, a need for extra support, he has less severe learning difficulties than his brother, but Yaw Sem has a problem similar to ADHD. He has a mood and a temper that constantly go up and down and that are very hard to control for both, himself and the people around him. But they are two really wonderful boys, they are struggling with a lot of things in their lives but they have infinite of love to give. They both have so strong personalities; you will never forget them once you've met them!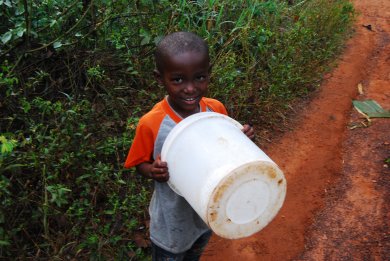 Eric is a very happy 7 year old boy, with a smile that can make anyone melt. Eric sometimes lives at his father`s house. But the father is alone with him and very young so therefore he has a hard time taking care of Eric. My strongest memory of Eric is me carrying him to bed all the time, he can fall asleep everywhere. He can fall asleep on a table and there is 20 children playing around him, it doesn't disturb him at all and every time he looks so satisfied, so calm and peaceful.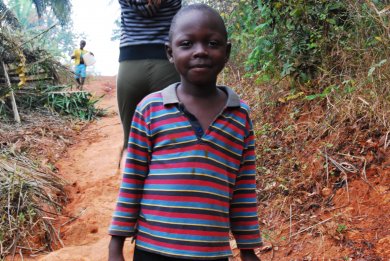 Enoch is 7 years old; he doesn't have any contact with anyone from his family or relatives. He is a boy who needs love above everything else. He is afraid of a lot of things like, darkness, to be alone and to tell someone that he needs help and therefore he needs someone who can be there for him. He is a fantastic boy, who always wants to sit on your lap and be as close to you as possible.
Songy is an 11 year old girl who is very talented, she is one of the best in her class in all subjects. She is good in everything from math to painting. Songy is always helping everybody with everything and is constantly thinking and caring about everyone around her. She is a bit shy and quiet, but she always wants to have a hug or a hand to hold on to.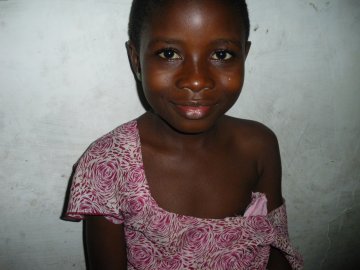 Christiana or Nike as she is called is 10 years old; she is a girl with a lot of energy. Nike has some contact with her mother, but the mother doesn't have any family left, she is completely alone and was very young when she got Nike, so she has a hard time taking care of Nike, but she still wants to be a apart of Nikes life, even if it´s a very small part.


Comfort is 16 years old and the oldest girl in the orphanage, she has lived at the orphanage since it started and doesn't have any family or relatives left. I have never met such a helpful person like Comfort, as soon as she´s not in school or doing her homework she is helping with something in the orphanage. Comfort loves going to school, she is dreaming about studying in another country and become a doctor.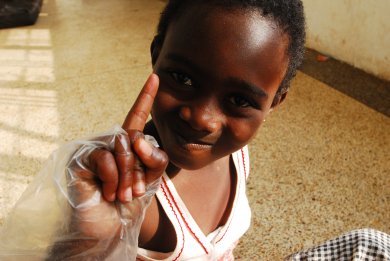 Josephine is a tuff girl; she is 8 years old and has lived at the orphanage for 1 year now. Before she came to the orphanage she lived with her grandmother.
Paul is 14 years old and he has also just lived at the orphanage around 1 year. He found his own place at the orphanage very fast with his funny and uncomplicated personality.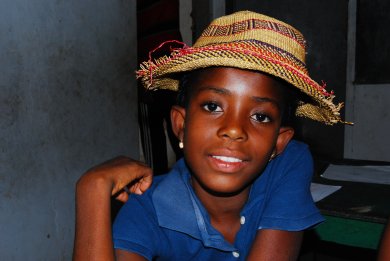 Juliette is 12 years old and has lived at the orphanage for 3 years. Her parents are dead but she has still some contact with her brothers and sisters who are spread out all over Ghana. Juliette is a very resolute girl that always knows what she wants and how she wants it, but at the same time she is longing for conformation and most of the time she just wants someone holding her hand.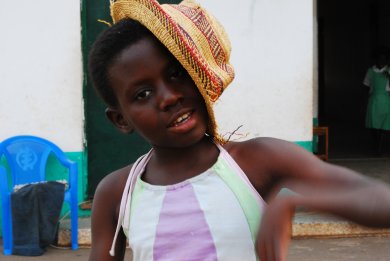 Paulina is 10 years old and came to the orphanage when I was volunteering there. In the beginning she was very shy and reserved, but after just one month she became more secure and now she wants to learn everything that you possibly can learn and the faster, the better. She has had a very hard life and hasn't had the chance of education which means that she is very behind. But thanks to her eager to learn and her big interest for everything she is very fast making a huge progress in all subjects. Just after she arrived to the orphanage her grandmother died. Paulina's grandmother was the last person left from her family and relatives, now there is no one left.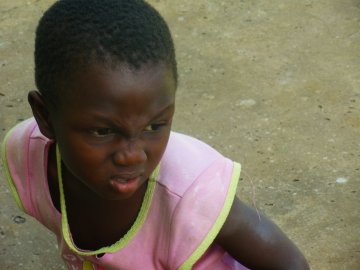 Martha is 6 years old and one of the youngest girls at the orphanage, but she is as tuff and resolute as the oldest. She doesn't let anyone stop her and is always full of energy. She has some family in a village close to Begoro but it´s a complicated relationship.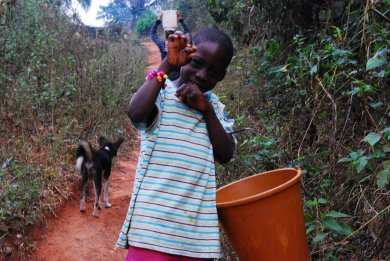 David is 8 years old. Both his mother and father are alive and lives in Begoro. But they are both severe handicapped witch in Ghana means that it´s more or less impossible for them to live a normal life. The streets in Begoro are just out of sand and stones and no one has ever heard about a handicap ramp, so you can imagine how hard it is to just go out of the house. This means that the chance to earn a living for the family is very very limited and that´s the reason way David is living at the orphanage. David is very good at drawing and he loves puzzles, he loves sitting by himself and just doing his own thing, always with a concentrated smile on his lips.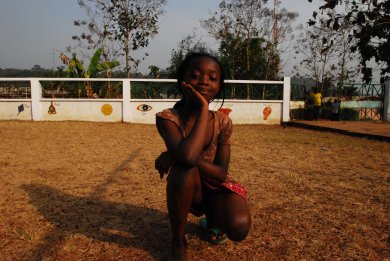 Juliana is 11 years old and has a constant smile on her lips that´s contiguous on everyone around her. She is the little sister to Kwaku (see the picture below).Their parents are not alive but they still have some contact with some of their relatives who also live in Begoro.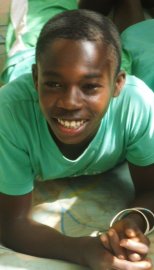 Kwaku is 16 years old and is the big brother of Juliana. Kwaku is dreaming about becoming a professional football player; as soon as he has the chance he grabs the ball and starts playing. Kwaku is a really good role model for the smaller boys at the orphanage; he is so helpful, trusting, humble and orderly. He has a very mature personality and takes more responsibility than any 16 year old boy that I met before. He became a very good friend to me during my time in the orphanage.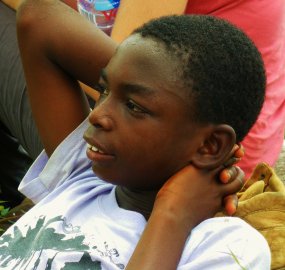 Wisdom is 14 years old and has lived at the orphanage since it started; he has an absolutely wonderful personality, a personality that´s impossible not to love! He is a bit of a clown; he loves joking around and making people laugh. Wisdom is also very good in everything that has to do with technical things, every time my flashlight broke I went to him and he fixed it for me. He has some problems with learning and he is struggling a bit in school when it comes to reading, but you just have to give him a little push and show him that he can do it.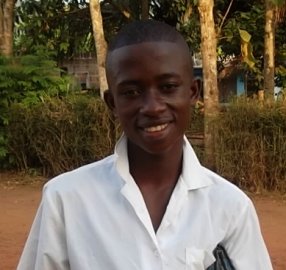 Kofi is the oldest in the orphanage, he is 17 years old. He is like a big brother for all the children and he always takes the responsibility to handle and take care of things at the orphanage. Kofi did not have the chance to go to school before he came to the orphanage, four years ago. So of course he is very behind in his learning, although he is 17 years old he can´t read, but he has the will to learn, he just needs some extra support. Kofi is an amazing boy; I have never met a 17 year old boy that´s so humble like Kofi.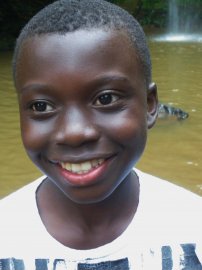 Kwami Gyan is 11 years old; a boy that grew up under very hard conditions. Kwami Gyan is struggling with a lot of issues in his life which affect his character and behavior in many ways. Nevertheless he is a very happy, determined and, above all, a very honest boy who constantly wants love.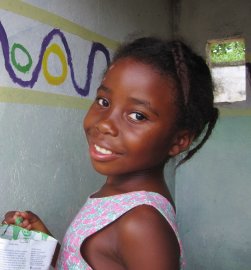 Rita is 8 years old and the little sister of Kwami Gyan. Rita is very clever, she loves school and she is always the one assisting the teachers when the other children need help. Rita's second interest after school is clothes; she is a little fashion queen who loves going around, showing off her own creations she has made.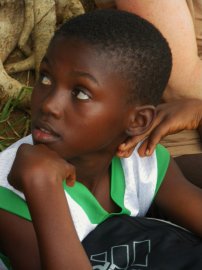 Abaiki is a wonderful 12 year old girl, with such a beautiful face that can make anyone marvel. She is very good in school, she loves reading and is dreaming about becoming a teacher and living in Europe when she grows up. Abaiki has lived at the orphanage since it was found, she knows that both her parents are dead, but she never got to know how or why they died.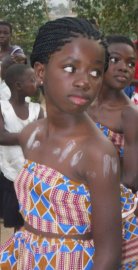 Angelina or Angela like she prefers to be called is 12 years old. Angela suffers from very hard experiences in her life; different experiences were her mother, father, a little brother and one big sister of different reasons died. After her parents died she lived for some time at her uncle´s house, but she got treated extremely bad by him and luckily she ended up at NABI instead. Today she has some contact with her two sisters, who are living in different parts of Ghana. Angela has a hard time to both, giving and receiving love and care, but she is in need of someone who can be there for her, someone to talk to when all the memories come over her and she feels lonely. She is a fantastic girl, that´s, although everything she´s been true, is very trusting.
Gyan is 14 years old; a very talented boy that during my time in the orphanage got an award for best study results in his class and has now got the amazing chance to get a scholarship to be able to go to high school. Gyan doesn't have any contact with anyone from his family or relatives even if they are still alive. He ran away from home when he was younger because he lived under bad circumstances and wanted to go to school and then he ended up at NABI. Gyans family came to NABI to try to take him back to the jungle, where he doesn't have any chance to go to school. Gyan ran away from the orphanage so that his parents couldn't take him with them, after some time he came back to the orphanage and he has lived at NABI since. Gyan has a heart out of gold; he is like a big brother for all the younger children, who all look up to him.
Benjamin is 8 years old. He is a very determined little boy who most of the time seems too mature for his young age. Benjamin has now more and more contact with his father who also lives in Begoro. Benjamin's father hasn't had the possibility to take care of Benjamin before, but he is now trying to build a relationship with Benjamin. It´s a very positive development and I can really see how good this is for Benjamin.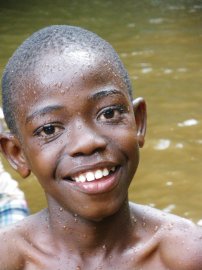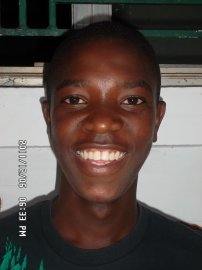 Isaac is 15 years old and the big brother of Shedrech who is 10 years old. The two brothers are real charmers, who are very talented in school. Football is their obvious favorite hobby; they both would play football night and day if they had the chance. The brothers' don´t have any contact with their family but they do have some contact with their uncle who lives in a village close to Begoro.

Rebecca is 7 years old and her little sister Emanuela is 5 years old. They are very close to each other, when you find one of them you will find the other close by. They have lived at the orphanage for almost 1 year.