About Me
I was nineteen years old when I graduated Istu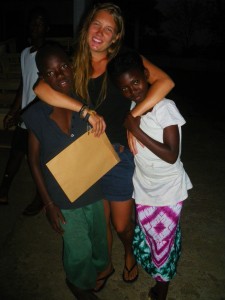 denten the 1st June of 2011 and I already had my trip planned and my flight ticket booked. I flew down to Ghana at the 2nd of September to do volunteering work in the orphanage Nation Builder International, NABI, in the village Begoro. I stepped out of the barely working taxi on this red sandy road, in front of me a big stone building up in the mountains; sweaty, dazed and very nervous. I had hardly put my second foot on the ground before I was surrounded by children in all different ages; one was hugging my foot, one was brushing the sand away from my back, another was jumping up and down, someone took my backpack, one was pulling my arm and another was hugging me. I had now met the 28 children who from that moment on had changed my life.
These six months I spent together with these children in Ghana were the best, the hardest, the most important, the thorniest and the happiest of my life.
I lived and worked at the orphanage and the school NABI. I helped the children with their everyday duties like fetching water from the well, cleaning the dishes, washing their clothes and cooking. I had English lessons in the school for children with learning difficulties and together with some other volunteers I started different projects; for example a hygiene project and a rubbish project. We taught, showed and practiced on how you take care of your hygiene and how you handle rubbish and waste. We tried our best to improve the orphanage and the school with the resources we had, we painted the walls, we bought cleaning equipment, we bought new mattress, and built a place for the rubbish. But what I saw as my first priority was to take care of the children and be a person that they could turn to for anything. Carrying them to bed when they had fallen asleep on the ground, taking them to the doctor when they were sick, helping them with their homework in the evening, playing with them during the weekends, talking to them and just being there for them.
The life in a village in Ghana, up in the mountains, surrounded by jungle, is in a lot of ways very hard. No running water, no electricity, small living areas, very less food, a very different culture, small resources and a lot of hard work. But the childrens´ never ending energy, big beautiful smiles and infinite love, took me by storm and in some strange way all these hard things didn't seem so hard anymore.
When I got back home to Sweden after six months confusion started. I didn't really know how to handle that I was back home, back in my "normal" life. I was here and the children were still there, living the life that had become my life during the last months. I was back in a life with running water in abundance, with internet 24 hours a day and with food stores around the corner, a life without 28 children constantly present. The joy of being reunited with my family, relatives and friends overtook everything the first months. But slowly the feeling of confusion and guilt crept up on me. It felt like a piece of me was missing. I realized that Ghana and the children will always be a part of my life and I decided to use my emotions and experiences to make a difference. Try to make a difference in my own way for these children who made such a big difference for me. The idea of NABI Sweden was born and this website is now the platform for this supporting organization that I have created for Nation Builder International in Ghana, for all the wonderful children who live there. I hope with all my heart that you have great interest to share this journey for making a difference for these children and give them the future they deserve.